What is water mitigation, Canton? And what are water restoration services? Both services are essential to property recovery. However, you cannot restore your home or business without mitigating the water damage first. Learn everything you need to know here.
Need Water Damage Mitigation at Your Canton Home or Business? We Can Help
Whether you are facing water damage at your home or at work, it can be overwhelming. By understanding the difference between mitigation and restoration, you know what to expect from the recovery process.
Can-Restore is your local water damage mitigation and water damage restoration provider. We are your one-stop shop for complete property recovery in Canton, GA, and we are here for you 24/7. Just give us a call at
Do I have to take care of water mitigation right away?
Any delay in starting the damage mitigation process increases the risk of water damage spreading through your property. It also gives mold more time to grow spores in wet drywall and flooring.
Is Water Mitigation Different From Water Restoration?
Your property may experience a water damage event sooner or later. Plumbing leaks, burst pipes, flooded basements, leaky water heaters, roof leaks, and extreme weather can all cause water damage to residential and commercial property. Water mitigation and water restoration services may be required in any of these circumstances.
After property water damage, water mitigation services always come first, followed by water restoration services if necessary. Water mitigation services work to keep further damage from occurring and to get your property and belongings out of harm's way. Water restoration services, on the other hand, are performed to repair the existing damage caused by water to your property.
While water mitigation and restoration services can be performed independently, most professional restoration companies will use both to restore homes and businesses after water damage.
It is critical to fully comprehend the water damage cleanup process so that you can see what experts do and what to anticipate when they visit your home or other business property. To find out more about how water mitigation and water restoration differ, continue reading.
What Is Water Damage Mitigation?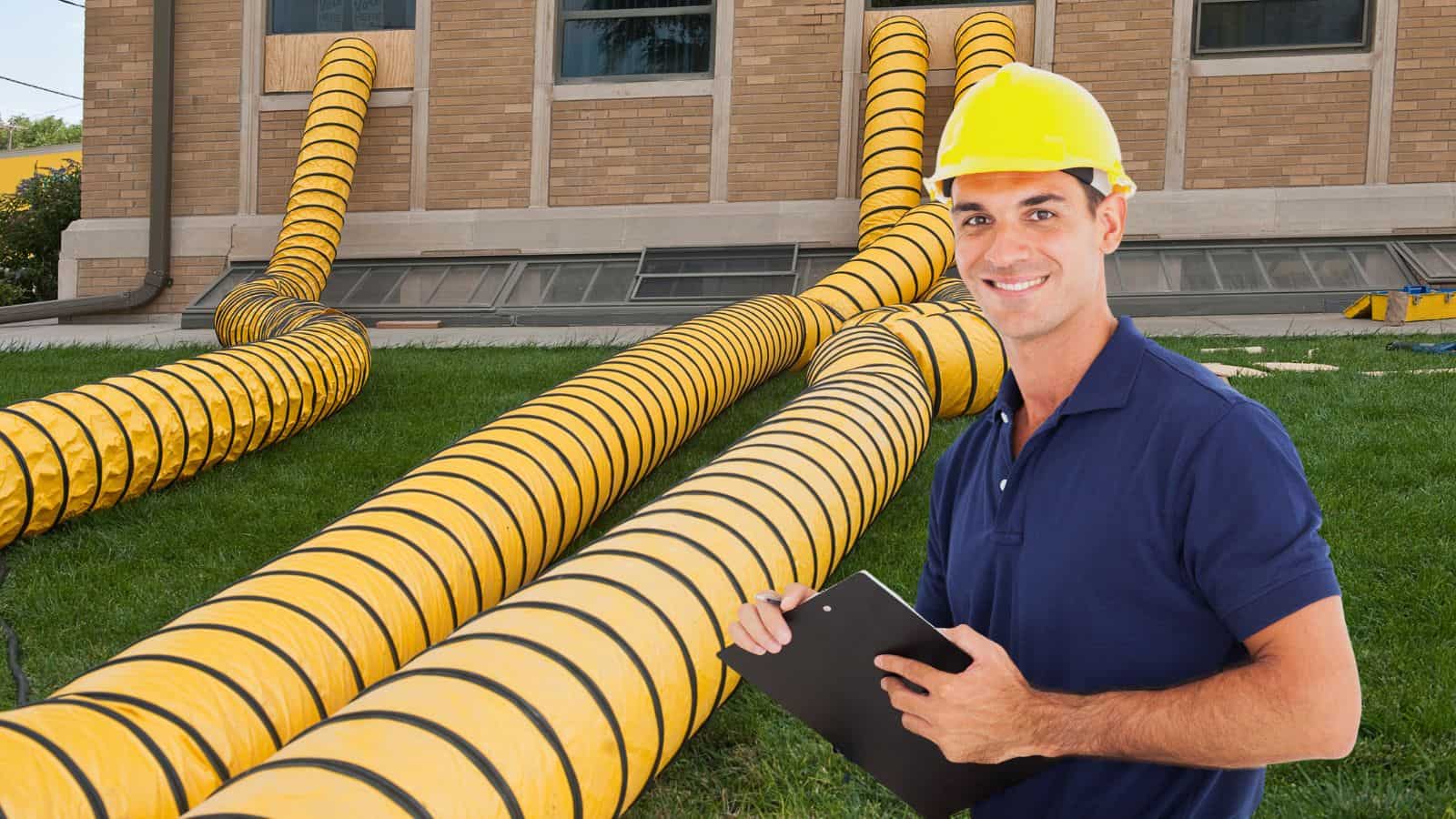 Water mitigation is the first step in a process that addresses water damage. Mitigation is the water removal, moisture control and structural drying process that prevents further damage. It minimizes secondary water damages such as buckled floors, crumbled drywall, and widespread mold growth. Water mitigation sets the stage for full service repairs and property-wide restoration.
Water damage mitigation stops your property and possessions from suffering additional water damage. To reduce the amount of loss, the water mitigation process involves using specialized tools and methods, such as:
Removal of damaged furniture, flooring, and drywall.
Cleaning and sterilization of salvageable materials.
Ensuring the stability of the building structure.
Using commercial-grade equipment to remove water and dry out the property
Prevent additional structural damage to the property by applying roof tarps, boarding up windows, and taking other necessary precautions.
The purpose of water damage mitigation services is to prevent further damage from occurring rather than to restore or replace damaged property. Even though the water mitigation procedure may stop further damage, the service is frequently only a short-term fix.
What Does Water Mitigation Entail?
Inspection – Mitigation technicians inspect the property
Assessment – Access the level and type of water damage
Protection – Take care of any necessary emergency repairs and building board-up
Water Extraction – Deep standing water is pumped out of the property using truck-mounted water extraction systems. Professional technicians operate specialized vacuum equipment to remove residual water from porous surfaces.
Structural Drying – Heavy-duty industrial-grade equipment including high-power air movers, axial fans, and desiccant dehumidifiers are structural drying tools. Additional drying systems for wood floors and subfloors are essential as well.
Property Stabilization – To stabilize a property, minimize secondary water damage with site-specific drying systems and methods. For instance, drying crumbling drywall or buckling floors will help stabilize a property and prepare it for upcoming water restoration.
Site Cleanup – As the drying phase progresses, water mitigation crews clear out debris, identify salvageable items and begin the cleanup process. This includes disinfecting all affected surfaces and materials.
What Is Water Damage Restoration?
Water damage restoration is focused on repairing and restoring the water damage caused to a home or commercial property. Following the water mitigation process, many trained water damage restoration specialists will focus on rebuilding and reconstructing your property using a variety of applications.
The water damage restoration process is designed to assist property owners in recovering from all damage. Although the steps taken by a restoration company to restore each home will vary depending on the extent of the water damage, common water damage restoration services include the following:
Repairing or replacing damaged walls and flooring
Mold removal
Roof damage repair
Testing humidity and moisture levels to ensure that all moisture issues are resolved
The primary goal of water damage restoration is to return the home to its before the damage state. Because repairs cannot be made until all water damage issues have been resolved, the water restoration process cannot begin until the water mitigation process has ended.
How Does Water Restoration Work?
Material Tear-Out – Water damage restoration begins with the removal of damaged materials such as saturated drywall, warped flooring, and warped baseboards.
Repairs and Replacements – Materials that are not badly water-damaged are assessed to determine if they can be repaired or must be replaced.
Mold Removal – Water damage experts find and remove mold in affected areas and prevent future mold. Ensuring that interior humidity levels are stable and back to normal is critical.
Complete Restoration – This final phase of work involves repairing, rebuilding, and replacing interiors so that the property is restored to its original condition.
Common Misconceptions About Water Damage Restoration Services And Mitigation
There are numerous myths surrounding water restoration and mitigation procedures. Here, we clear up the three of the most common misconceptions you need to understand.
Replacement Is More Cost-Effective Than Restoration.
In many cases, restoring property after water damage costs less than replacing property. Moreover, a full-service restoration company will be able to quickly identify and clean salvageable furnishings, appliances, electronics, and personal belongings. The cost of restoration is often much lower than what you would pay to buy new replacement items. So, please do not assume that replacing damaged belongings, appliances, electronics, and furniture will be the cheaper option.
Letting Walls And Carpets Will Air Dry On Their Own Saves Money
While carpets and drywall may dry on their own, the real problem is the hidden moisture beneath and behind these materials. Moisture remaining in floors and behind walls degrades building structural components and compromises its structural integrity. In the damp, dark environment mold and mildew flourish. The delayed cost of addressing these problems quickly increases.
Endangering your household's health caused by mold exposure is not worth it. A professional restoration company can effectively reduce your risk by using advanced meters and sensors to measure the level of moisture present. Your property will eventually dry without mitigation. However, air drying is not cost-effective.
DIY Water Mitigation And Restoration Is Easy To Do
DIY water damage repair and flood cleanup will not save you any money in most cases. That is due to the subpar quality of DIY efforts to remove and repair water damage. For example, dealing with water damage DIY ends in a long-term mold infestation. So, rather than hiring professionals to stop future mold growth from the start, your poor DIY attempt allowed mold to grow and will be costly to remove.
Industrial water extraction equipment is not readily accessible to non-professionals. However, it is possible to rent small systems from most home improvement stores. The same is true for dehumidifiers, and other water damage mitigation equipment and tools. These less powerful versions of industrial technology mean that DIY cleanup is not effective and very time consuming.
Overall, it is faster and safer to hire industry-certified professionals for water mitigation services. Experienced technicians and specialists from Can-Restore use the latest equipment and most powerful technology to completely remove water extremely quickly.
Different Types of Water Mitigation For The Category Water Damage
Water mitigation techniques differ depending on the water source. For example, water from a broken pipe is usually classified as Category 1 clean water. In these cases, water damage crews follow industry standards for mitigation.
Category 2 gray water poses a bigger challenge. Water from a backed-up sump pump or leaking washing machine hose can present chemical contamination hazards. A mitigation team can access and address potential contamination and chemical concerns in Category 2 water.
Sewage backup is category 3 water damage that needs to be handled by restoration professionals. The mitigation process for Category 3 black water requires specialized PPE equipment and products. Black water carries dangerous pathogens and hazardous chemicals that soak into affected materials. Technicians follow stringent OSHA, CDC, and EPA regulations for Category 3 water mitigation.
Call The Experts At Can-Restore To Deal With Water Damage On Your Canton Property
If you require assistance with water mitigation and restoration following an emergency, contact Can-Restore. Our technicians are available 24 hours a day, 365 days a year to help you get your home or business in Canton back to normal as soon as possible. Contact us today at 770.735.2695 to learn more about our water damage services and how we can assist you in rebuilding following a disaster.