Why water extraction help is the most important thing you'll learn about this summer.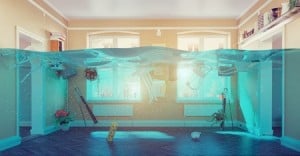 If you have water in your house, you need water extraction help. It doesn't matter where the water came from, or why, the restoration process and dealing with the water damage is the same, and extraction is one of the most important pieces of the puzzle. Here's the lowdown on what happens and what to expect when you have water in your house.
What Is Water Damage Restoration?
Restoration after a water damage isn't a nice-to-have, it's a need-to-have. Without proper restoration you could be facing extended time unable to live in your house, long-term issues as a result of the damage, or potentially even total property loss.
Restoration is the process of returning your home to its pre-damaged condition. This must take place no matter what level of damage you find after a leak or a flood. Although there are no actual government regulations regarding water damage cleanup, there are standards of care set by the industry and the IICRC (Institute of Inspection Cleaning and Restoration Certification), the organization that certifies restoration companies and techs. These standards are set based on restoration principles, research, consultation, and experience gathered over time from a variety of sources.
Why Water Extraction Is So Important
Getting the water out of your house is the first and most important step to recovery after you've experienced the influx of water. And timing is critical. The longer water is left standing, the more damage it can do to your property, your belongings, and the actual structural soundness of your house. When a restoration company is called in, the first step is to assess the damage and create an action plan based on the circumstances, the cause of the water damage, and the amount of water present.
Once they have assessed the damage, technicians will begin the restoration process, which begins with water extraction, moves to drying, and finally to property and structure restoration. As long as the water is handled quickly, the chance for a full and successful restoration is good. If the damage is extensive, the process can take longer and require more work and labor.
What's Required for Proper Water Extraction?
Many homeowners will find it tempting to pull out a wet/dry vacuum and try to pull up the water themselves. Not only is this a painstaking process, but it's not very effective. Water will go everywhere, even where you can't see it, and without the proper tools, some water and moisture could be left behind and continue to cause damage, including mold growth.
Certified technicians will follow some or all of these steps to ensure proper extraction:
Move out furniture, appliances, and other items that can be easily relocated to help make the process easier
Using submersible pumps, water is pumped out of the area
Industrial vacuums are used to continue the water removal process
Using tools that can extract water from under carpeting and flooring, water is pulled from the subfloor
Wall, ceiling, and cavity drying systems are used to access water that can't be seen or reached otherwise
Industrial fans and blowers are brought in to help dry the area
Dehumidifiers are used to ensure excess moisture is treated before cleanup is considered complete
What's Next after Water Extraction?
After water extraction is complete and the area has been thoroughly dried, the repair and property restoration can begin. This generally includes cleaning, deodorizing, mold removal, and air scrubbers in addition to the restoration of property, furniture, electronics, and documents. If demolition or rebuilding is required, this will also be handled during the repair and restoration process.
Water damage in your home can be a nightmare. Proper restoration techniques are required to ensure you're back in your home, in its pre-damage condition, as quickly as possible. Contact Can-Restore for help with water damage restoration, which starts with water extraction, by visiting us online or calling (770) 735-2695.