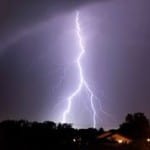 So you're sitting around on a stormy summer day, wondering about water and fire restoration, right?
Ok, maybe not. But stormy summer days can be the cause of both water damage, from flooding, and fire damage, from lightning strikes. And though those aren't the only, or even most common causes of water and fire damage, they can get you thinking: If it happens to you, what will you do?
Here's a quick guide to water and fire restoration.
When you first notice water damage, or immediately after a fire, the first thing you need to do, after you secure your safety and the safety of your family and pets, is to call a restoration company. 24 hour emergency response is key to getting water and fire restoration started as soon as you have an issue. A good restoration company will then take these actions:
Water extraction and drying
Structure and property cleaning
Flooring and personal property cleaning
Smoke odor cleaning and air purification
Repair and reconstruction
Document, electronics, and furniture restoration
Air scrubbing
Ozone treatment
Taking care of all of the various aspect of water and fire restoration is critical to getting your home back in living condition. Water and fire restoration should be done by a team of professionals with the right expertise and the right equipment to ensure the job is done right.
Next time you're thinking about water and fire restoration, or if you happen to be the victim of water or fire damage, call Can-Restore for professional water and fire restoration and 24/7 emergency response. (770) 735-2695