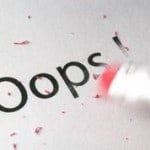 One of the worst effects of fire is the soot and smoke damage. Soot is made of oil and other elements which makes it especially difficult to clean. When you're facing smoke damage, some tips on avoiding soot removal mistakes when tackling soot removal can ease the pain of cleanup.
Tip #1: Don't Touch Anything
The first tip on avoiding soot removal mistakes is easy:  When you first evaluate and assess the smoke damage, don't touch anything. Touching soot covered materials and then touching something else can transfer the soot, just extending the soot removal process.
Tip #2: The Vacuum is Not Your Friend
Although soot removal requires getting the soot off of fabrics, carpeting, walls, and other surfaces, a standard vacuum is not the right tool. The rotating brushes on a vacuum can push the soot into the fibers of what you're vacuuming. Wait for a professional with the right soot removal equipment to properly handle the soot removal.
Tip #3: Don't Dig In Unprotected
Soot removal requires protective gear including eyewear, long sleeves, gloves, and masks if possible. Avoid skin contact with soot, or breathing it in. If any soot gets on your skin, wash it off as soon as possible. Soot is corrosive and it isn't safe to come into direct contact with.
Soot removal isn't as easy as 1-2-3.  Make sure you avoid these soot removal mistakes and remember it requires expertise and professional equipment. Want more information on fire, water and smoke damage? Download the latest report from Can-Restore in Alpharetta, GA now.