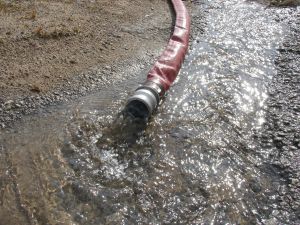 If you've had a flood of any kind and are weighing your options about clean-up, there are a few good arguments for using a water damage repair company.
Here are three reasons you should be considering water damage repair:
1.  Water? What Water?
When you've had a flood, even a minor one, it's the water you cannot see that can cause the most damage. Water that sits untreated for an extended period of time can not only cause damage to whatever it's sitting on, but it can become a breeding ground for mold and mildew. A professional will approach the water damage repair with an eye for what can't be seen.
2.  Repair and Restore vs. Replace
Water damage repair done by professionals will include the repair and restoration of your personal property. Don't panic and worry that you must discard everything that was affected by the flood. Water damage repair assessment will include determining what can be salvaged as well as what must be discarded.
3.  Treatment, Treatment, Treatment
Just because you think you've cleaned up all of the water from a flood does not mean there isn't further treatment needed. Water damage repair includes treatment to not only remove mold and mildew but also to prevent it. And antimicrobial treatments can help insure you have a complete restoration.
If you've had a flood, you need water damage repair. Don't skip steps. It's not worth it in the long run. Want more information? Download the latest report on Fire, Water, and Smoke Damage for Smyrna home and business from Can-Restore.