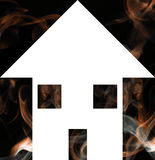 Cleaning up after a fire is a large undertaking. If you've had a fire in your home you're probably anxious to get the process started as soon as possible. Curious what the professionals may or may not do? Here are 3 things that won't happen during smoke damage clean up.
Close It Up!
Good ventilation is key to fresh air circulation and helping to rid the house of smoke and odor. Closing up a home with smoke and fire damage is not on the to-do list during smoke damage clean up. Installing and setting up fans to help circulate the air effectively will speed up the process.
Air Freshener All Around!
Air freshener and regular cleaning products are not enough to eliminate smoke damage and odor from your furniture and textiles. During smoke damage clean up a professional restoration company will apply counteractants to break down the smoke molecules and help get rid of the smoke odors.
Water Water Water
Smoke damage clean up needs more than just plain water. A professional will use special chemicals to remove soot from the walls and furniture. Some of these can have toxic fumes, so it's important to rely on an expert who knows how to handle the products and the proper ventilation to ensure safe usage.
Plain water also won't work on your clothes and linens. Some non-washable items should go to a dry cleaner for a special cleaning process to remove smoke and soot. Washable items can go in the washing machine with liquid detergent, but it may take several washings to remove all of the smoke odors and residue.
Want to know more about smoke damage clean up in Roswell, GA? Download our latest report on Fire, Water, and Smoke Damage for home and business.