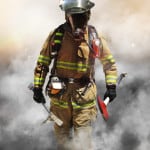 Fire damage restoration can be needed as the result of a small fire or it can be a huge undertaking depending on the damage. No matter the size of the fire or the extent of the damage left behind, this is what everyone is saying about fire damage restoration.
Think You Can DIY? Think Again!
Those who have been the victims of a fire have an understanding about fire damage restoration and the process of restoring your home to its pre-fire condition. And if you ask them they will tell you that you cannot do-it-yourself when it comes to fire damage restoration. It's too hard and too complex for you to go it alone and have lasting and effective results.
Does it Take an Expert to Tell You That You Need an Expert?
Nope. Anyone who's been through it can tell you that it takes professional attention to effectively address fire damage restoration. From the water extraction to the smoke odor cleaning to the soot and residue cleanup, it doesn't take an expert to tell you that you need an expert.
What is Fire Damage Restoration Anyway?
Fire damage restoration includes the response of a professional team of experts who will come to your property and evaluate the damage, address all of the issues including the smoke and soot damage, the odor left behind, the dangers and toxins that result from a fire, the structural soundness of your home, and the restoration not only of your home but also the restoration of all of your belongings.
Trust people when they talk about fire damage restoration. There are experts who do this for a living for a reason. It's not for the average person to take on and be able to complete safely and effectively. Take a look at Can-Restore, your local professionals in fire damage restoration. Download our latest report on fire, water and smoke damage for your Roswell, GA home and business to learn more.