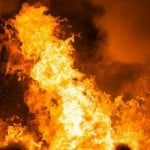 Fires are horrible, devastating, life-changing events. And dealing with the aftermath can be a stressful experience that only makes the situation seem worse. But fire damage repair doesn't have to be a stress-inducing, hair-losing, ulcer-having process. Here is the truth about fire damage repair.
The truth is that fire damage repair is a process that requires professional attention. The damage from the flames is just the beginning. The water used to extinguish the fire and the soot and smoke residue left behind are really part of the disaster itself and require an enormous amount of specific treatment during the fire damage repair
What do restoration experts do during fire damage repair? Glad you asked! The first step is 24-hour emergency response to come to the site of the fire and assess the damage and evaluate the recovery process. Once this is done an action plan is created and the fire damage repair begins.
After a fire the damage repair includes extracting the water from the firefighters, structure stabilization, removing any belongings and determining if they can be restored or if they need to be discarded, storing belongings during the fire damage repair process, cleaning up the smoke and soot damage, using ozone treatment to rid the building of the smoke odor, restoring belongings including furniture, documents and electronics, and performing mold and mildew removal and mitigation if necessary.
Don't let the fire damage repair process make you feel even worse than you already do after a fire. For more information on disaster recovery, check out the Smyrna, GA Can-Restore today.