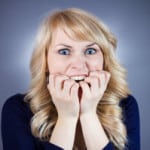 Wind and rain and lightening, oh my! It's almost summer, and it's the season for storms. And storms in the south can pack a major punch, causing all kinds of storm damage that requires damage restoration services. If you're home is damaged in a storm it can be easy to let it carry you away on an emotional roller coaster. Here's how storm damage restoration can give you a nervous breakdown.
Water, Water Everywhere!
Whether you have water in your home from an insane amount of rain that doesn't drain properly away from your house or you have storm damage to your roof that allows rain in, water damage during a storm is common. It's one of the most common results of storm damage. When you have water damage it's easy to let yourself freak out. But bring it back in by reminding yourself that there are professional damage restoration companies whose sole job is to help you with storm damage.
Roof and Siding and Tree Damage
Hail, wind, rain, tornadoes, lightening. All of these things can cause damage to your roof and siding, not to mention your trees. Don't let this type of storm damage throw you into a downward spiral! Professional damage restoration companies are equipped to manage the tree removal and get your house back to working order before the next storm.
But seriously, a nervous breakdown due to the process of damage restoration after a storm is totally unnecessary. Don't get carried away by the overwhelming nature of storm damage in your Marietta, GA home. Contact Can-Restore now and let us help you avoid a nervous breakdown after the storm.