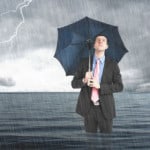 Summertime in the south can bring on sudden thunderstorms with a lot of rain in a short amount of time. With these quick, strong storms can come flooding, and with flooding comes water damage. If you haven't had the joy of experiencing water damage, here's a helpful guide with 4 ways to get the most out of water restoration services.
1.  Assess the Damage and Estimate the Water Restoration
A professional restoration company should come to your home and evaluate the damage and act quickly to begin the water restoration process. Most water restoration companies offer 24-hour emergency response.
2.  Water Extraction
The first and most important step in water restoration is getting the water out. Fast. The longer water sits the more damage it can do. Disinfecting, drying and deodorizing are all part of this process.
3. Salvage and Water Restoration Services
Removing your belongings from the water damaged area is part of the water restoration process. Storage, if necessary, of items and assessment of the damage is done to determine what can be restored and what needs to be discarded. Restoration can be done on furniture, electronics and documents.
 4.  Cleaning and Scrubbing
Cleaning carpets and wood and vinyl flooring are part of water restoration. Also, you may need upholstery cleaning and flooring restoration.
Don't get caught in the rain without knowing what to do about water restoration. For more information, download the latest report on fire, water and smoke damage for home and business from the Roswell, GA Can-Restore.