What do you need to know about storm damage services?
When the weather turns nasty, storm damage services could be in your future. You may be familiar with some common storm damage services, but if you haven't had damage from bad weather before, you might be surprised by all of the ways you could need a professional restoration company afterward. Let's break it down. Keep reading for the three most common types of storm damage, and how they get fixed. The last one might surprise you.
#1 Most Common Type of Storm Damage Services: Flood Cleanup and Restoration in Atlanta
Most storms, especially in the south, come with a lot of moisture. Rain is a huge factor in seasonal bad weather, which is why flooding is a primary cause of damage—not only during the storm but after as well.
Floods from rain can come from a variety of sources. It can come in through leaks in the roof, through the foundation that may be cracked or compromised; it can get in if the landscaping and grading around the house aren't done properly, and it can definitely be a factor with natural disasters and regional flooding.
What type of restoration is necessary with flooding? The key is water extraction. Water is incredibly damaging to your home and your belongings. It can cause rot, bowing and warping to the wooden structure and supports, deterioration of the drywall, rust and damage to appliances, breakdown of the materials in flooring and carpeting, and, worst of all, the growth and spread of mold in your home.
Getting the water out quickly is critical to a complete and successful restoration. The longer water sits the more damage it will do. A good restoration company will be on site quickly, with 24/7 emergency response, to start the cleaning, drying, and restoration process.
#2 Most Common Type of Storm Damage Services: Wind Damage Repair
High wind not only feels chaotic and dangerous, it can be. And there isn't just one generic type of wind. There's straight-line wind, downdrafts, downbursts, microbursts, gusts, derechos, and even something called a haboob. All of these can contribute to damage to your property.
Wind damage can range from leaves blown from branches and inside-out umbrellas to broken branches, downed trees, and severe structural damage to your home. Debris can be blown onto your home causing damage to siding, gutters and downspouts, roofing, windows, and porches. It can damage or destroy lawn furniture, landscaping, and outbuildings and sheds. If the wind is strong enough, it can create negative pressure within a building that is strong enough to pull apart entire walls and damage the structure of a home.
The first step to restoration from wind damage is to secure the property to make sure it's safe. The next steps include assessing the damage, checking the structural integrity of your home, and making necessary repairs.
#3 Most Common Type of Storm Damage Services: Thunderstorm Damage Repair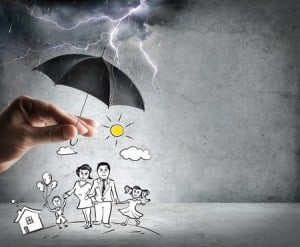 This doesn't sound right. How can a thunderstorm cause damage that's different than flooding or wind damage? As surprising as it might be, thunderstorms are more than just loud light shows. They can cause as much damage as wind, sometimes even more.
The damage that is most common during a thunderstorm comes from wind, but another common result of thunderstorms is hail damage. Surprised? You're not alone. Hail doesn't seem like a common issue in the warm climate of the South, but when it hits it can damage roofs, siding, windows, cars, patron furniture, landscaping, and sheds.
Repair and restoration after hail includes roof repair, siding repair and replacement, window replacement, landscaping repairs, and restoring concrete patios and sidewalks.
No matter what type of storm heads your way this summer, you should be prepared to deal with storm damage. Having a good restoration company in your corner can take the stress out of it and give you peace of mind that the repairs will be done right.
Contact Can-Restore for help with storm damage services by clicking the link or calling (770) 735-2695.