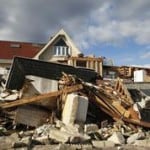 So there have been a few storms in the past few years, and this year is surely not going to be an exception. And if you live where there are an abundance of summer storms than it's likely you know what it's like to have storm damage. Now that it's spring, and summer is coming, here's what you need to know about the benefits of professional storm damage restoration.
You Don't Have to Do It Yourself
What else do you need to know? The truth is the primary benefit of professional storm damage restoration is that a professional is doing the work. And what work is there to be done? Here's a basic list.
• Water extraction
• Mold and mildew removal and remediation
• Air quality testing
• Ozone treatment and smoke cleaning
• Moisture testing
• Air scrubbing
• Packing and storage of belongings during storm damage restoration
• Furniture, document and electronics restoration
• Demolition
• Rebuilding
• Tree removal
The list is long, even though it includes mostly just the basics of storm damage restoration. The reality is that most of us are not capable of completing those tasks on our own, and certainly not with any experience and without any guarantee of effectiveness. In order for storm damage restoration to be done effectively and efficiently it takes a professional. And therein lies the greatest benefits.
Have any questions about storm damage restoration? Call Can-Restore today for information from your Smyrna, GA leader in storm damage restoration.