Learn what happens during and after clean up from Cartersville fire damage.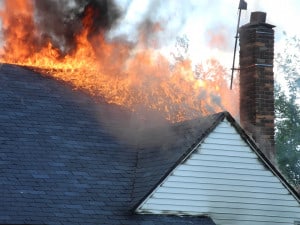 Are you facing Cartersville fire damage? A fire in your home is practically unthinkable, but if it happens, it's certain your life will be changed forever. Fire is devastating and heartbreaking, terrifying and dangerous, emotional and life-altering. No matter how large or how small the fire is, it can cause severe damage, and it needs professional attention. And then there's the question everyone wants to know: How soon can you move back into your house? From the fire to the restoration, here's everything you need to know about cleaning up fire damage in Cartersville.
What Will You Find After the Fire?
Fire can move at different speeds and leave behind different types of damages depending on the fuel burned. Imagine a forest fire. During droughts, trees, and grass dry out adding to the danger of wildfires. A fire can ignite easily blazing a path with tremendous speed. Nothing but ash and soot remain.
The same applies to house fires. Fires that burn synthetic materials like carpeting and upholstery, burn quickly. However, organic material burns more slowly. Things like wood and cotton or wool do not burn as fast as plastic and nylon. Likewise, the debris left behind will be different as well.
When seeing the state of a home after a fire, the damages may surprise you. Quite often homes suffer mostly water damage. It is the water firefighters use to extinguish the fire that causes the damage. There can be various types of damage to a home in a house fire.  Depending on the size of the fire, damages can be from the flames, heat, and smoke in addition to the water. Anything the flames do not burn is likely to suffer smoke, soot, or water damage.
What wasn't destroyed by flames is most likely destroyed or damaged by the smoke, soot, and water.
What Does Cartersville Fire Damage Clean Up Look Like?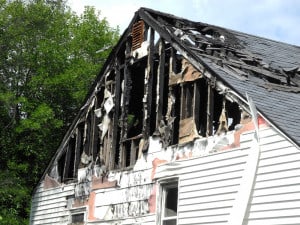 After you've called 911, and you and your family and your pets are safe, and you have called your insurance company, the next call will be to a fire restoration company. Immediate response is critical so that the restoration process can begin as quickly as possible. The longer the water, soot, and smoke residue sit the more damage they can do. As soon as the fire department gives the all-clear and it's safe to enter the s Cartersville structure, the clean-up process can begin.
When you have Cartersville fire damage and water damage. The first step is water extraction. Getting the water out and drying out your home is important to gain access to the rest of your home and to continue an active clean-up operation. Once the home is dry, the cleaning can begin. This includes walls, ceilings, flooring, appliances, upholstery, furniture, light fixtures, windows, and all of your belongings. Anything that was touched by the fire or smoke will need to be cleaned and restored.
Determining what is salvageable is part of the process. Any belongings that are too damaged for repair will be discarded. Other items that don't have damage can either be left in the home or will be packed and stored by your restoration company until after the house is repaired. Anything with repairable damage will be repaired and restored to its previous condition. This includes everything from furniture to documents and appliances to electronics.
In addition to the cleaning, critical steps like smoke odor cleaning, air purification, ozone treatment, structural stabilization, and demolition, if necessary, will be done. Until this happens, it's not only unsafe to return to your home; it will be largely unlivable due to the dangers from the soot and residue and the unbearable smoke odor left behind.
When Can I Return Home after a Fire?
Once the clean-up and restoration are complete, your home will be inspected. That is to ensure it's safe and structurally sound and that all of the repairs are up to code. At this point, you will be given the go-ahead to return to your home. And life after Cartersville fire damage restoration.
If you're facing the aftermath of a fire, you don't have to go it alone. Contact our expert team at Can-Restore for help with clean up from Cartersville fire damage by calling (770) 735-2695.