Learn how to prevent water damage from frozen pipes.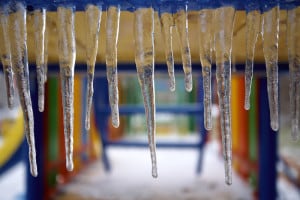 Living in the south, it's smart to learn how to prevent water damage, especially from frozen pipes. While we're lucky to live in such a mild climate, we're also not complete strangers to cold winters and cold snaps. But you don't need to let burst pipes burst your bubble! Here's what you need to know about thawing frozen pipes, preventing water damage, and what to do if the unthinkable happens.
What Happens When Pipes Freeze?
During a cold spell, if the temperature drops below freezing, your pipes could be at risk of freezing. When there is water in a pipe on an outside wall or in an unheated or uninsulated location in your home, it can freeze which causes the water to expand. When this happens, it can put enough pressure on the pipe itself to cause it to rupture, burst, or break.
How Can I Tell if a Pipe is Frozen?
Since you probably don't have x-ray vision and can't see into your pipes, how do you know when they're frozen? The most immediate way is with your faucets. Turn on the faucet and if little or no water comes out, that could indicate a frozen pipe. Another indicator is a strange sound when you run water or when you flush the toilet. If there's ice in the line, air can't get to the sewer line which can cause a bubbling sound. If you hear any whistling, that's another warning sign that the water can't get through the pipe efficiently, and it could be due to ice blockages.
Is There a Way to Safely Thaw Frozen Pipes?
The trick to thawing your pipes is to get to them before they rupture or burst. Getting to them as soon as possible increases your chances of thawing them out and reduces the chance of them bursting. Warming up the pipe is the key. Here are a few tips:
If the pipe is inside or behind a wall, turn the thermostat higher in your home. Warming up the area is the best way to warm up the pipe and start the thaw when you can't put your hands on the affected area.
Heat lamps or portable heaters can be used near a wall where the pipe is or next to an exposed pipe that's frozen.
Electric heat tape should be available at your local hardware store and can be wrapped around the affected pipe and plugged into the wall. The heating element inside the tape will thaw the ice in the pipes.
Hair dryers pointed at the frozen area is a more labor-intensive method, but can work in a pinch.
DO NOT use a torch or open flame to thaw your pipes. The risk, and ease, of causing a house fire with this method is far too great.
What if the Pipes Burst?
If your pipes freeze and you're not able to thaw them before they burst, water will pour out and into your home. This can cause a lot of water damage, the extent of which is dependent on the pipe and the water source. If your pipes freeze and burst, you need to manage the water as quickly as possible. Turn of the main water valve to your home immediately. The sooner the water can be cleaned up and restoration begun the more likely you are to have complete water removal and minimal damage.
There are some steps you can take to prevent frozen pipes and some easy methods for thawing pipes should they freeze during a cold spell, but it you should have a pipe burst in your home, you need to call in the experts to manage the cleanup and restoration.
Contact Can-Restore for help with cleanup or to prevent water damage from burst pipes by clicking or calling (770) 735-2695.