Can you turn flooded basements into less of a nightmare?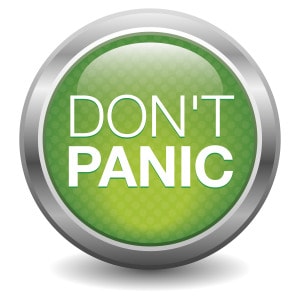 Anyone with a floor below ground can tell you there's nothing quite like flooded basements. It's a mess and it's destructive and it's dangerous and it's horrible! It can feel like the worst thing to happen to you, maybe ever. Or at least this year.
But it doesn't have to feel that way, at least not for long. Once you get past the initial shock and anger and upset and misery, there is a way to deal with the water damage from a flood without losing your mind, or your cool. Here's how.
#1: Don't Panic
Well, maybe panic a little. It's natural. When you see water in your home where it shouldn't be, your emotions can go a little crazy. But take deep breaths and collect yourself. Panicking doesn't help at all, and it can make the situation seem much worse than it actually is. So calm down and keep reading.
#2: Safety is Key
While a flooded basement might not look like a hazard or feel like a hazard, it actually is a hazard. Even though it's your basement and you think you know what's down there and where everything is, a flood is a bad time to find out there are things in places you don't remember and when you start wading through the muck, you trip or slip or get cut or hurt. That would be a bad outcome on top of dealing with a flood.
It's not a good idea to go into the basement until you're sure it's safe. Some of the potential risks include coming in contact with exposed electrical, cutting yourself on sharp edges or debris, contact with water that is probably tainted with bacteria and could be full of chemicals and pollutants and possibly sewage, and falling or slipping and then making the already bad situation even worse. Stay safe and stay out.
#3: Trust in Insurance
If you have a spill that you can mop up with a towel, you don't need insurance or water damage restoration, you just need a towel. But if you have a flooded basement from a leak and serious water damage as a result, you are going to be so happy to have that insurance policy. This should be the first call you make. Take a breath and start the claims process. Your insurance company will get the ball rolling to getting the repairs covered and paid for.
#4: Dry It Out, Fix It Up
This is so important. After your call to insurance, call a restoration company and get the water extraction process started as soon as possible. The sooner you can get your house dried out, the less damage there will be. And, believe it or not, getting a professional on site to get the cleanup process rolling will reduce your stress level significantly. Here's there process in a few basic steps:
24-hour emergency response to get certified technicians to your location as quickly as possible
Techs assess the situation, evaluate the damage, and come up with an action plan
Water extraction begins using state-of-the-art fans, drying equipment, and dehumidifiers
Drying of the structure, including the flooring and carpeting, and of your personal property begins after water extraction
Sewage cleanup, if necessary
Antimicrobial treatment of the flooded area to prevent bacteria
Mold inspection and mold removal
Deodorizing and mildewcide treatments
Repair and reconstruction
Restoration of your belongings including documents, electronics, and furniture
When you have a flood in your home it can create a roller coaster of emotions and panic and it can turn into a nightmare. But it doesn't have to be that bad! Even with a disaster like water damage, you can still keep your sanity and your cool by staying safe and putting the situation into the hands of the professionals.