Preparing for fire damage to your house isn't a futile effort, even if the disaster is unavoidable.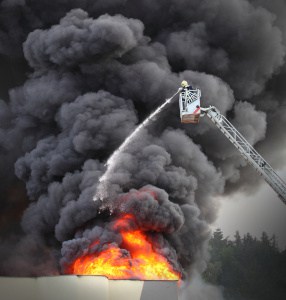 Understanding emergency preparation and preparation for dealing with fire damage are not mutually exclusive. But it begets the question, can you prepare for an emergency, including dealing with the aftermath, if the fire is unavoidable? The answer is yes. There are steps you can take to prevent unnecessary heartache and financial disaster after a fire.
Update Your Insurance Policy
It's easy to assume your policy is up to date and includes coverage for everything that could come down the pike, but oftentimes, people who've experienced a disaster, will find that is not the case.
One of the most important steps you can take to prepare yourself and your family for an emergency is to review your homeowners or renters insurance policy with your agent or insurance company. There are many aspects of a fire that you'll need coverage on.
Does your policy include repair and replacement? If your home is a total loss, will you be covered for the structure and the contents? And what about flooding? Flooding happens from the water from the fire hoses, and it seems logical that would be covered, but better safe than sorry. And what about natural disasters versus house fires caused by human error? Is there a difference in coverage? If you don't know, you should find out. And get covered.
Take an Inventory, Inside and Out
One of the best ways you can help make sure your insurance claim for fire damage will pay for all of your belongings, including family heirlooms, valuables, furniture, belongings, clothing, etc., is to have an updated inventory of everything you own, both inside your home and outside as well.
One of the best ways to take an inventory is with video or photography. Walk through your home with a camera and record or photograph all of your belongings. Then, make a list. You can use an old fashioned note pad and pen, a spreadsheet, or one of the many available home inventory apps.
Some insurance companies suggest you record a description or photo of the item, serial and model numbers, purchase date, and estimated value. While this seems like an overwhelming task, it can make the difference between replacing all of your belongings and having to pick and choose what you can afford based on your policy payout.
When you have your inventory complete, put it someplace safe! Storing it online is a great option. That way you have access to it from anywhere, even if your house has been lost.
Plan for Evacuation
Having an emergency plan in place won't prevent fire damage to your home if a fire is imminent, but it will help you and your loved ones get out in time, safely. Being prepared is key! Not only do you want a plan to get yourselves out, but having your important documents and valuables is also critical. Here are some things you can put together ahead of time:
A central meeting place should you get separated
A communication plan in case telephone and cel systems are down
Map out several routes to evacuate, depending on what is safest
A box of all of your important documents including birth certificates, insurance documents, bank information, deeds, wills, and medical information
Prescription medication
Extra pet food and pet medication, if necessary
Spare keys
First aid kit
Photographs or hard drives containing photos
Water and food to last for a couple of days
It's not always possible to prevent the unpreventable, but being prepared can help you get through a fire with as little after effects as possible.
Once you're safe and the fire is out, the next best step is to contact a professional restoration company to get them on site as quickly as possible to stop the damage and begin the repair and restoration.