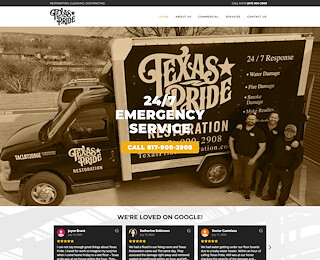 Whether you get water in your home from a flood or a broken pipe, the results are devastating. Even just a few inches of water can cause severe damage to your home and your belongings. You may have insurance to cover your losses, and you need professional help for water removal in Dallas. At Texas Pride Restoration, we offer a wide variety of services to help you through this challenging situation.
How Can I Remove Flood Water In My Home?
Don't try to remove flood water by yourself. It can be dangerous and difficult. Before you call for professional water removal in Dallas, you need to make sure that the water stopped rising. If the water is due to a broken pipe, you should immediately turn off the water main to your home. Our crew of professionals has heavy-duty equipment that is designed to remove a great deal of water in a short period. If your carpeting is soaked, you will generally need to remove and dispose of it since it will be hard to dry. The goal is to get rid of as much water as possible to reduce the risk of mold.
Steps to Take After a Flood
There are several steps you should take after your home is flooded. Do not wade into the water in your home if the electricity is still active. You don't want to make the disaster worse. Instead, wait until the water recedes to go into your home. You should take photos of your insurance company before you remove any items. You may start to remove furniture and belongings and place them in a safe area where they will begin to dry out. Call a company that specializes in professional water removal in Dallas.
How Soon Should I Remove Water After A Flood?
It is essential to get professional assistance with water removal in Dallas as soon as possible following the flood. Mold can begin to grow in damp places in just a few days. Once mold begins to grow, it will multiply very quickly. The best thing to do is prevent mold from starting by getting as much moisture out of your home as possible. Once we remove excess water, we make sure that we get plenty of air circulation to dry your home.
In some cases, we use powerful fans to dry the area. Water remediation includes removing mold and preventing further growth. If some areas of the walls or floors get damaged we will work to replace or repair them.
About Texas Pride Restoration
Texas Pride Restoration provides high-quality services including water removal in Dallas. We work with professional crews who have the equipment and expertise they need to handle any job, regardless of the size. We oversee all projects personally and pay attention to detail to make sure the job is done properly. Most importantly, we communicate with you directly to update the process and to answer your questions and concerns. Call Texas Pride Restoration when you need excellent water removal services.  
Water Removal Dallas
Texas Pride Restoration
8179002908
11925 Katy Rd
Fort Worth
TX
76244
View Larger Map